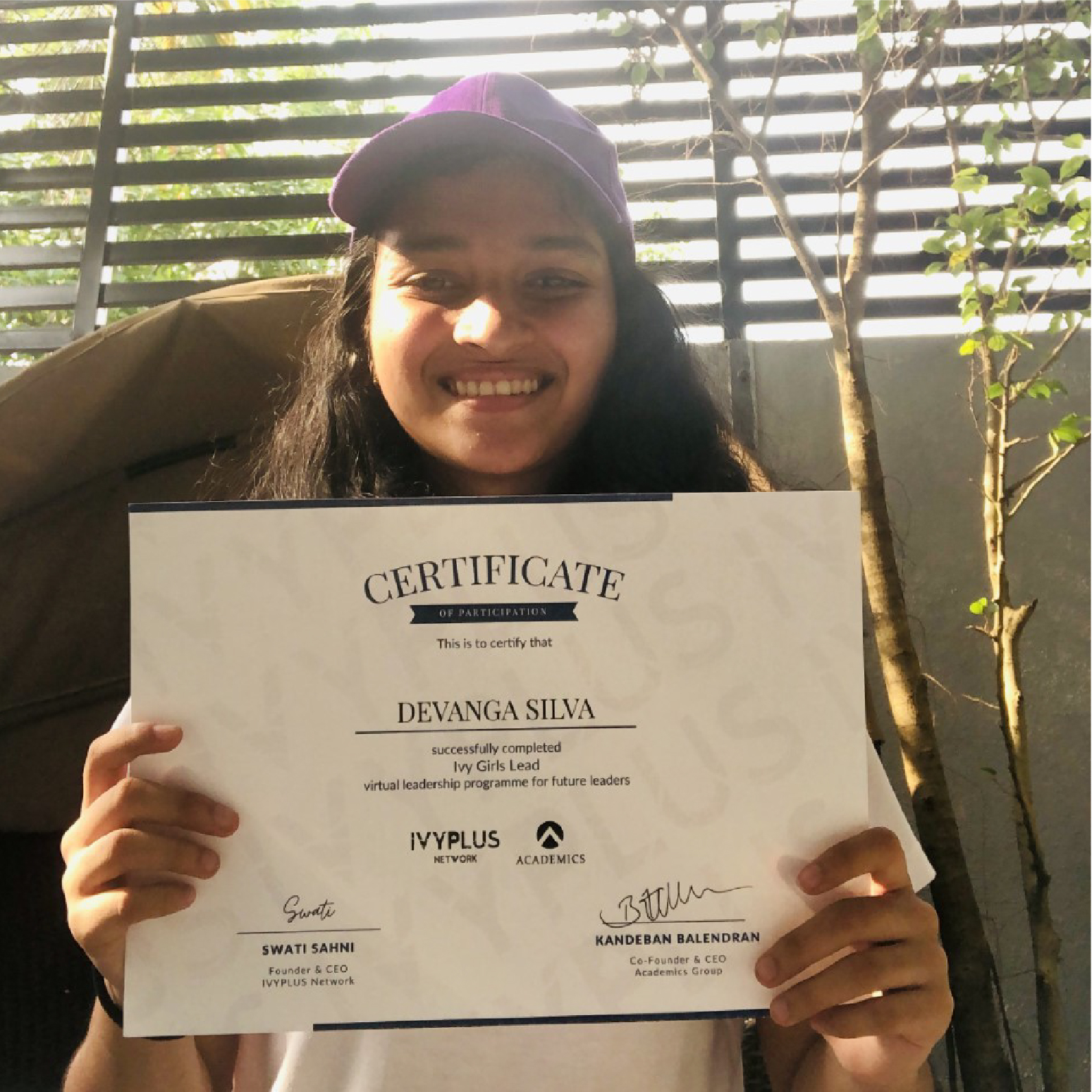 Devanga Silva
The Overseas School of Colombo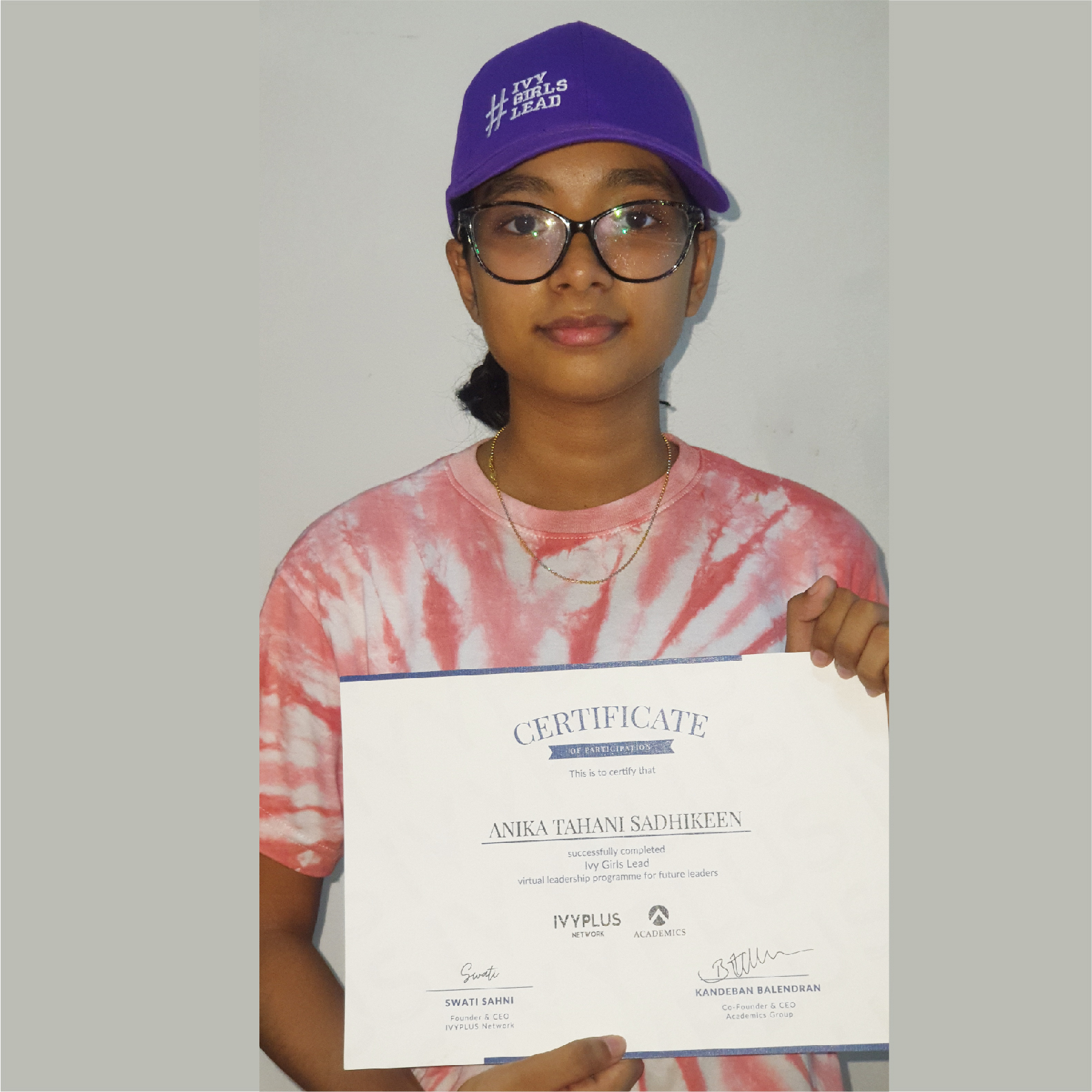 Anika Tahani Sadhikeen
Lyceum International School, Nugegoda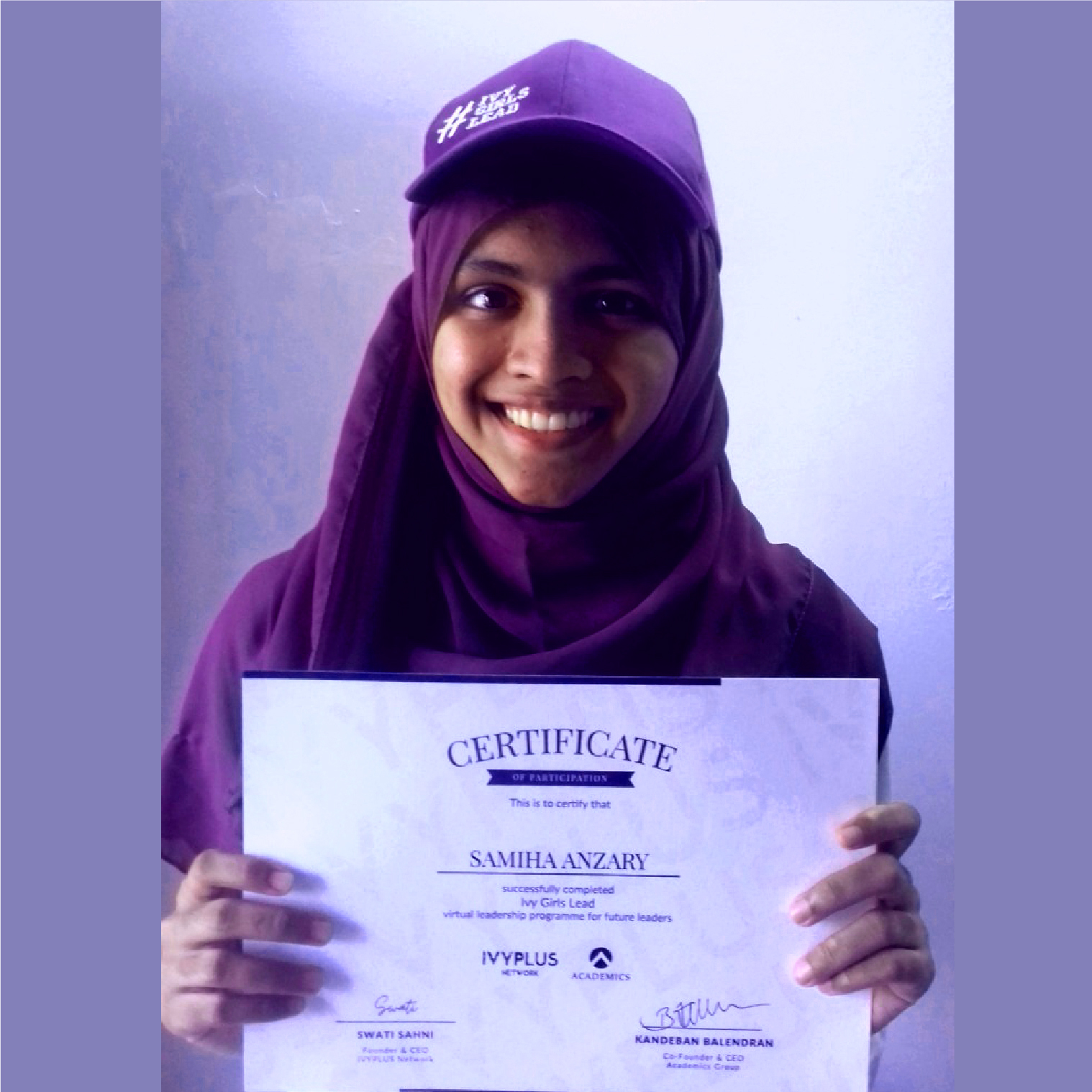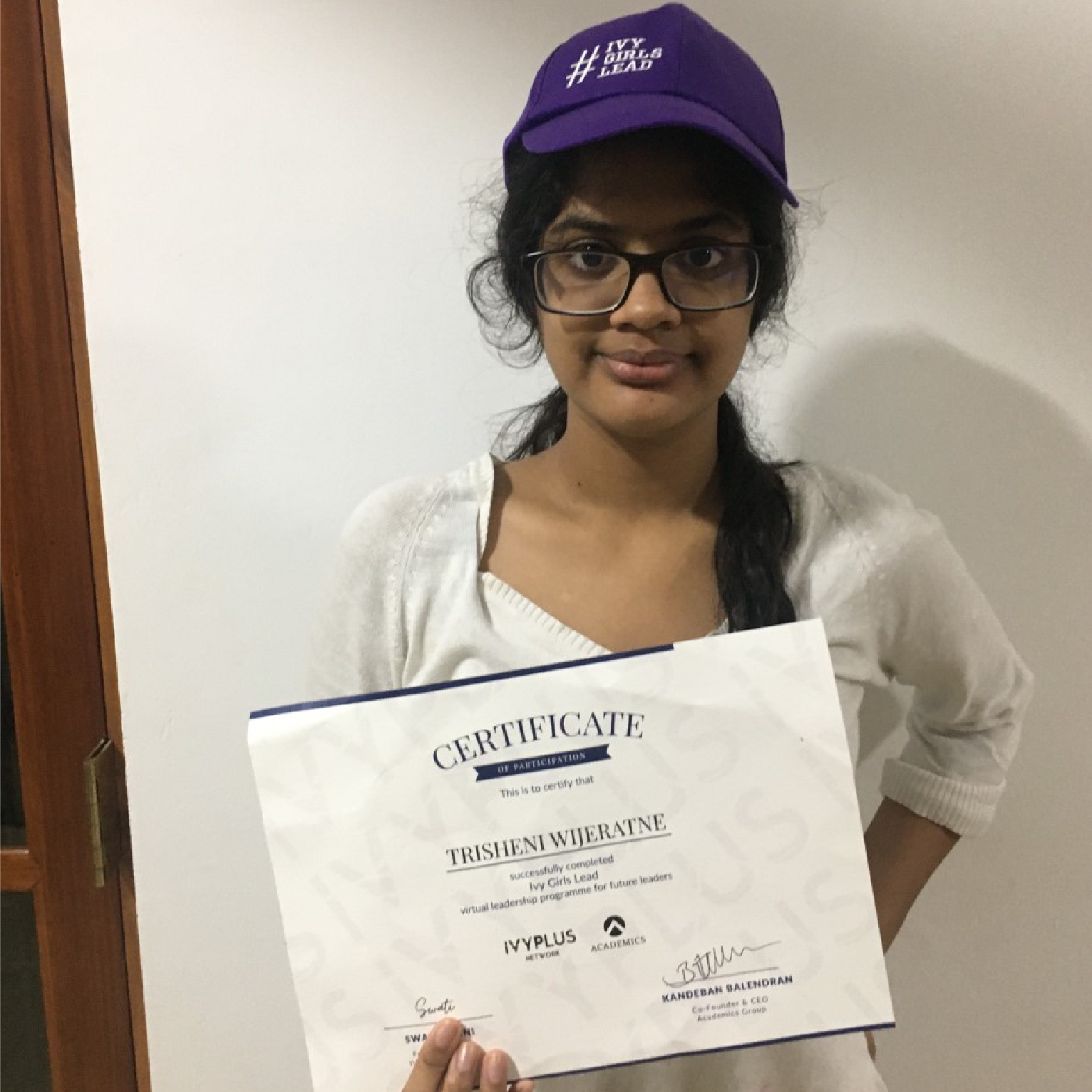 Trisheni Wijeratne
Stafford International School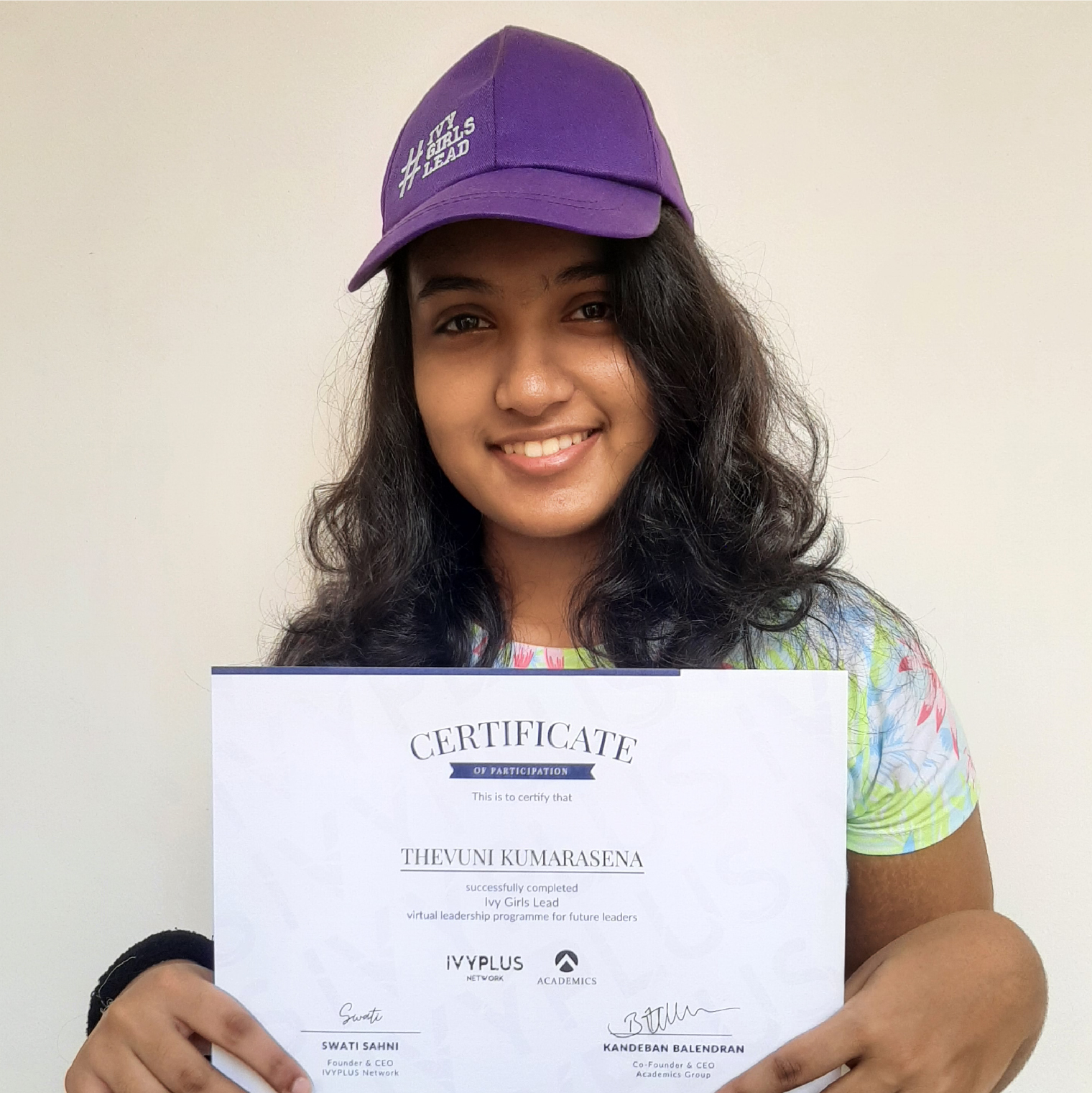 Thevuni Kumarasena
The Overseas School of Colombo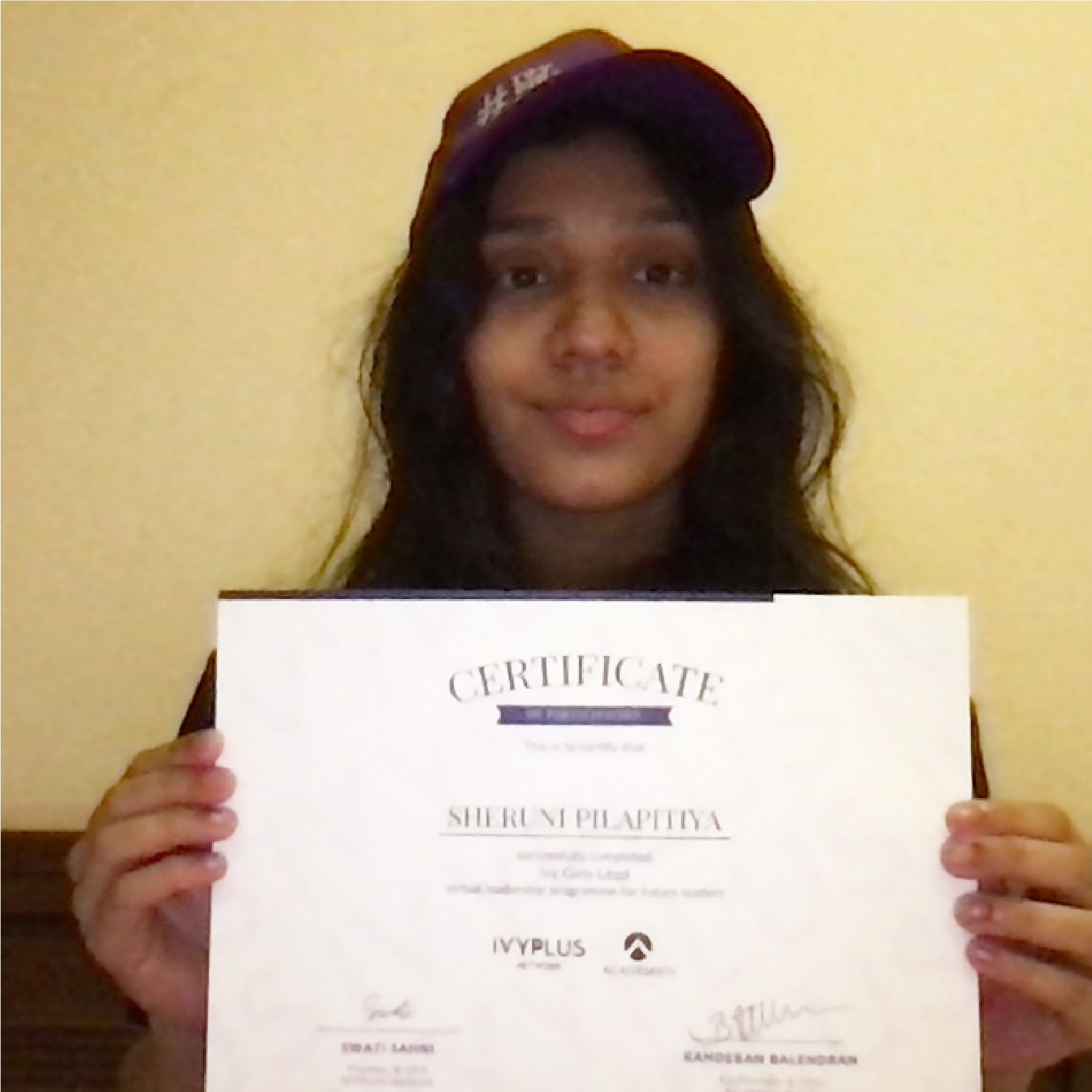 Sheruni Pilapitiya
The Overseas School of Colombo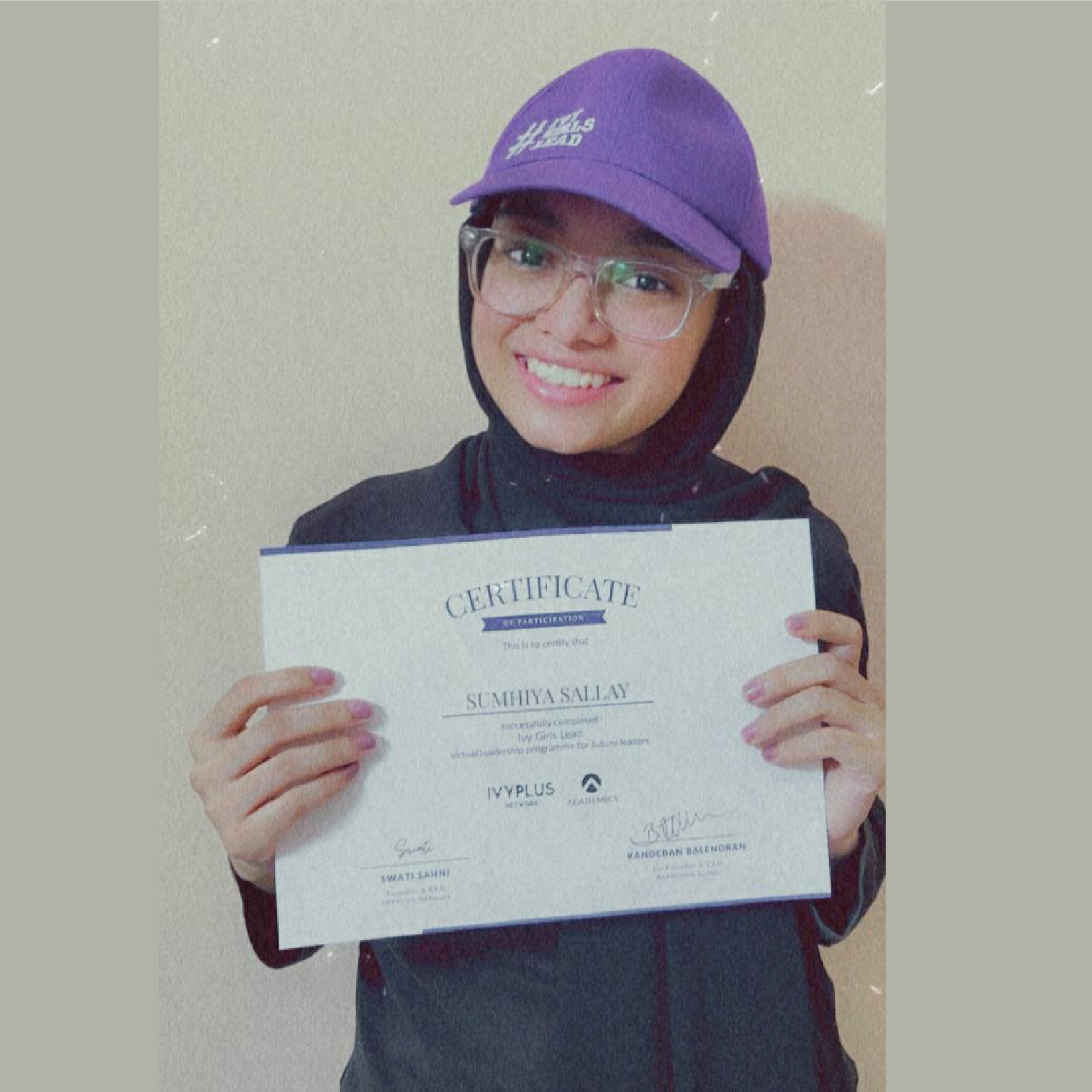 Sumhiya Sallay
APIIT, Law School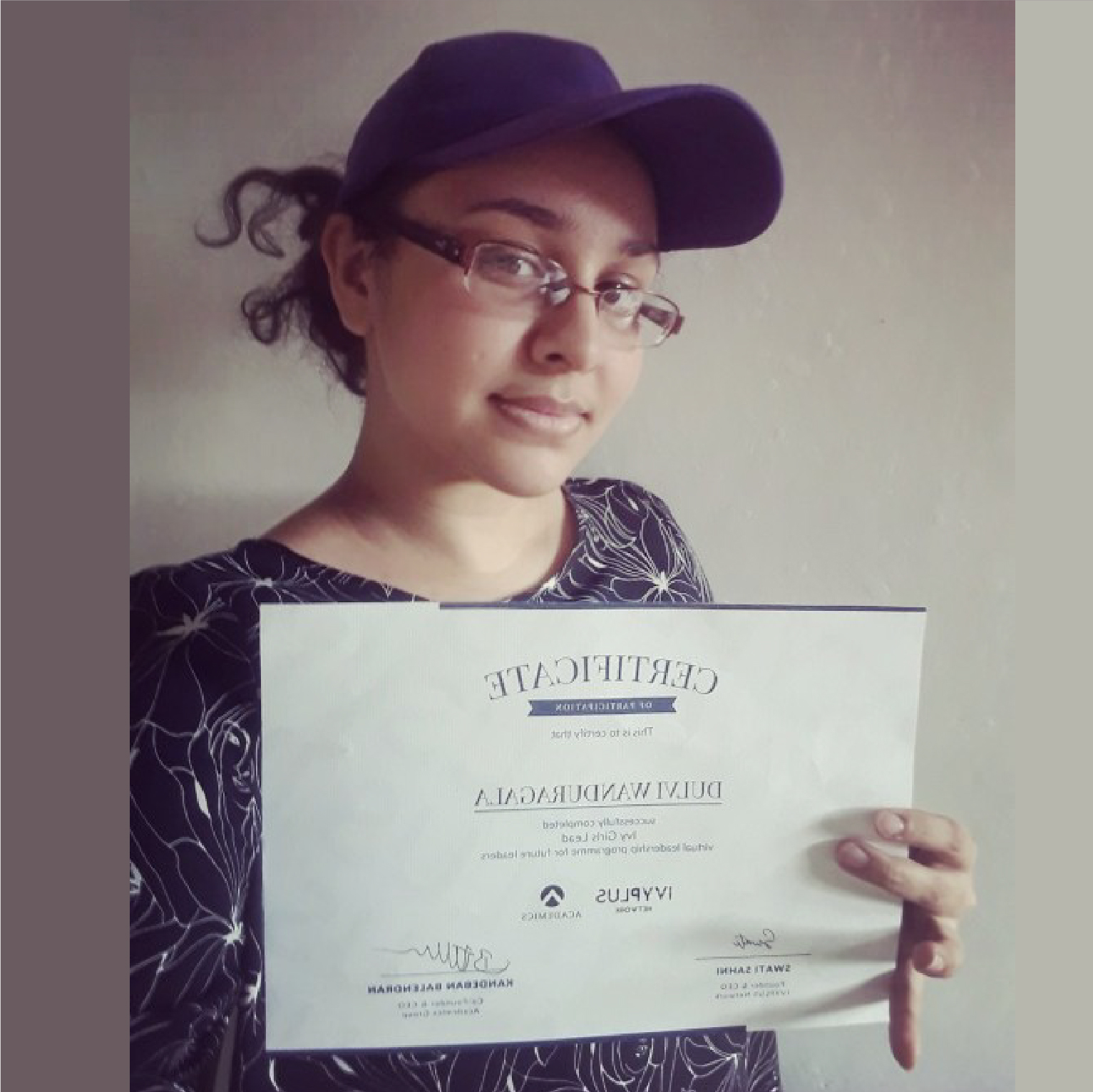 Dulvi Wanduragala
Sussex College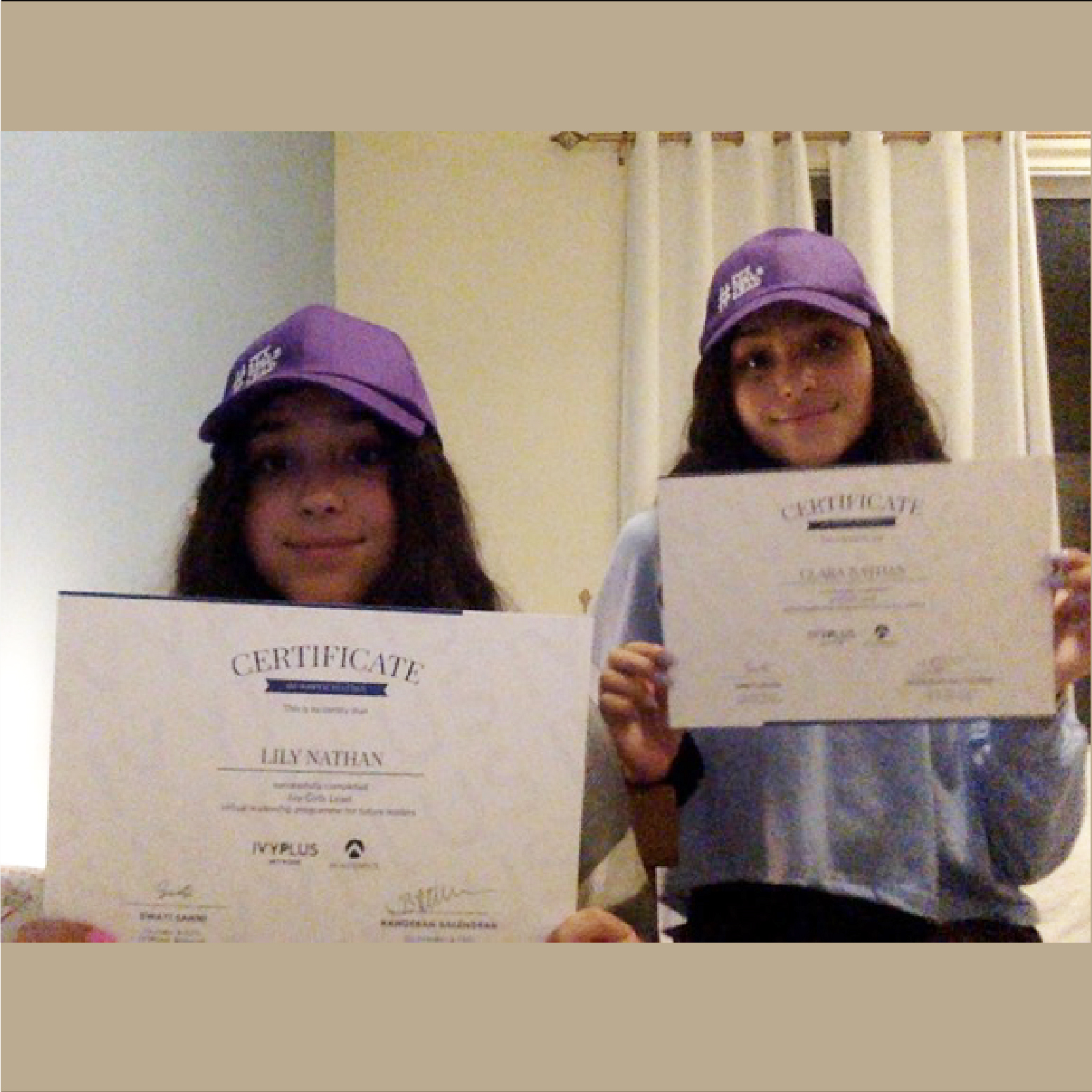 Lily Nathan/Clara Nathan
The Overseas School of Colombo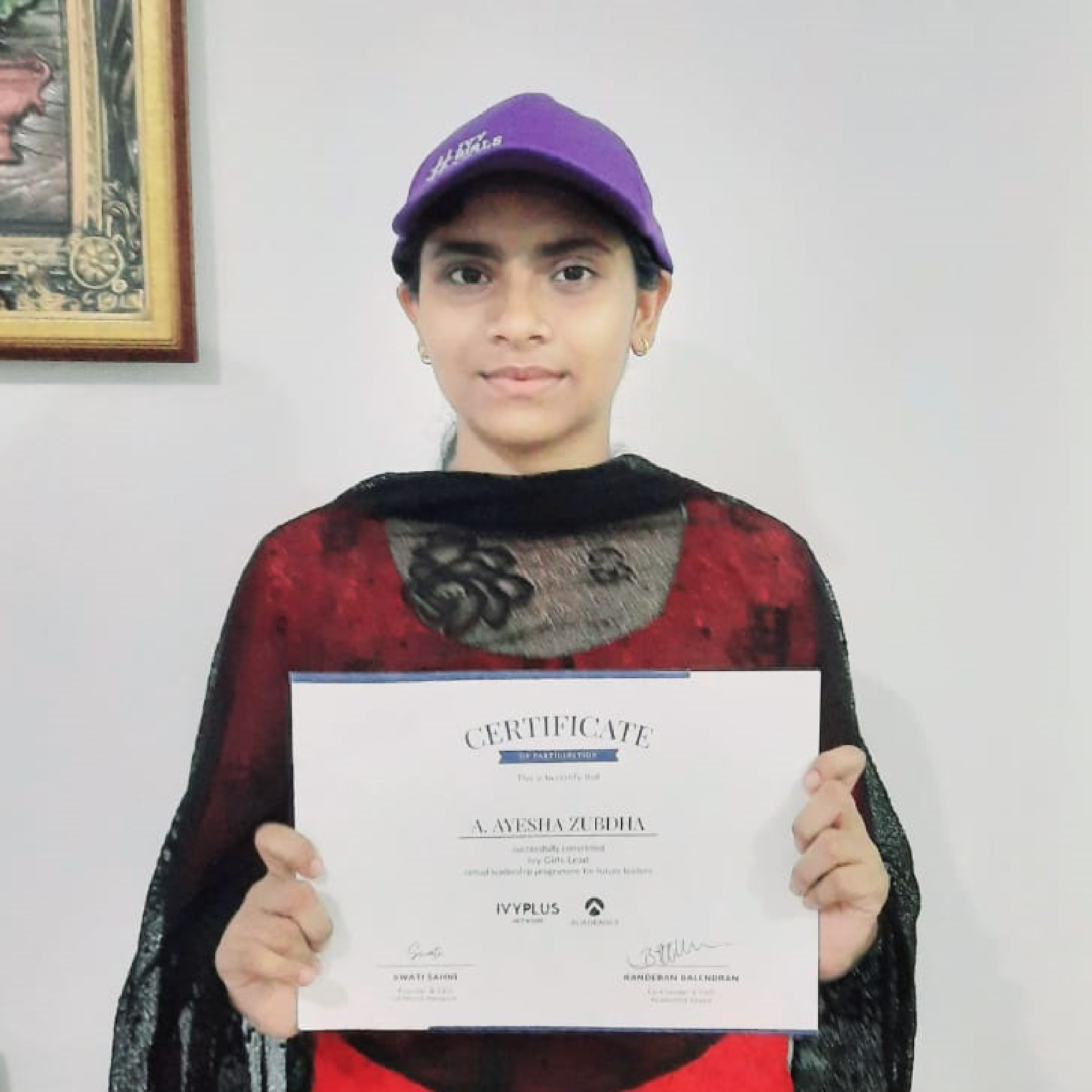 A.Ayesha Zubdha
Ak/Ayesha Muslim Ladies College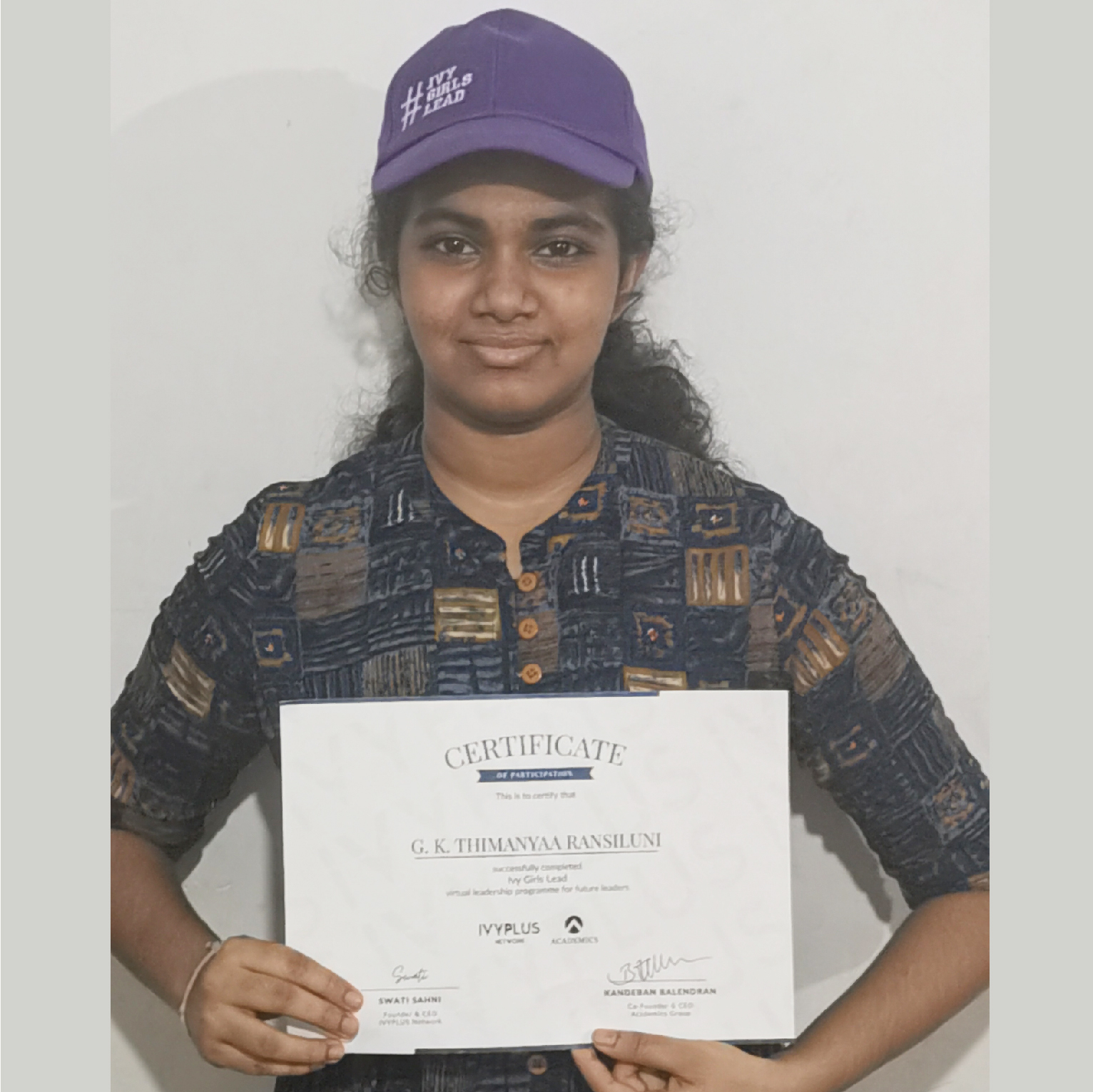 G K Thimanyaa Ransiluni
Lyceum International School, Panadura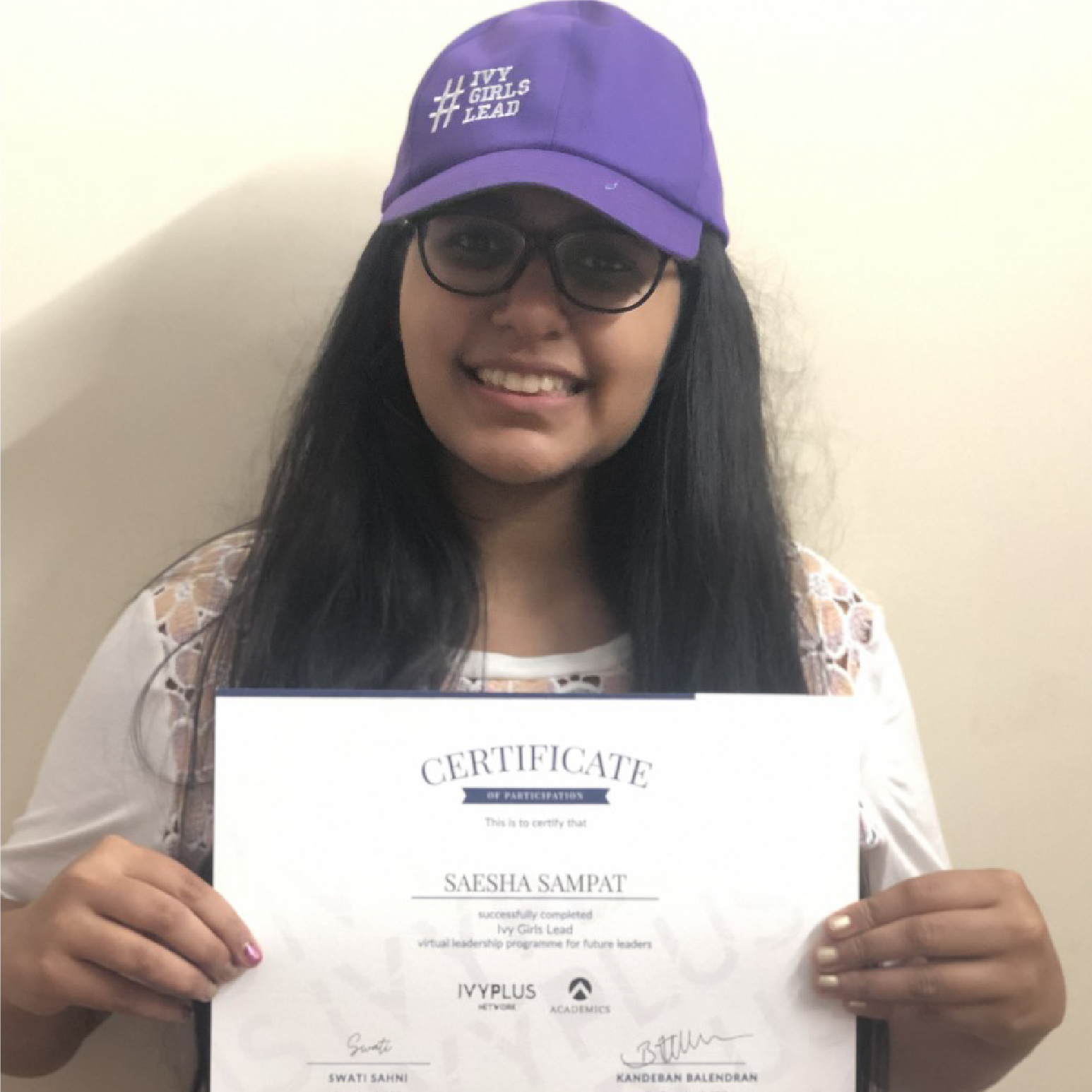 Saesha Sampat
The Overseas School Of Colombo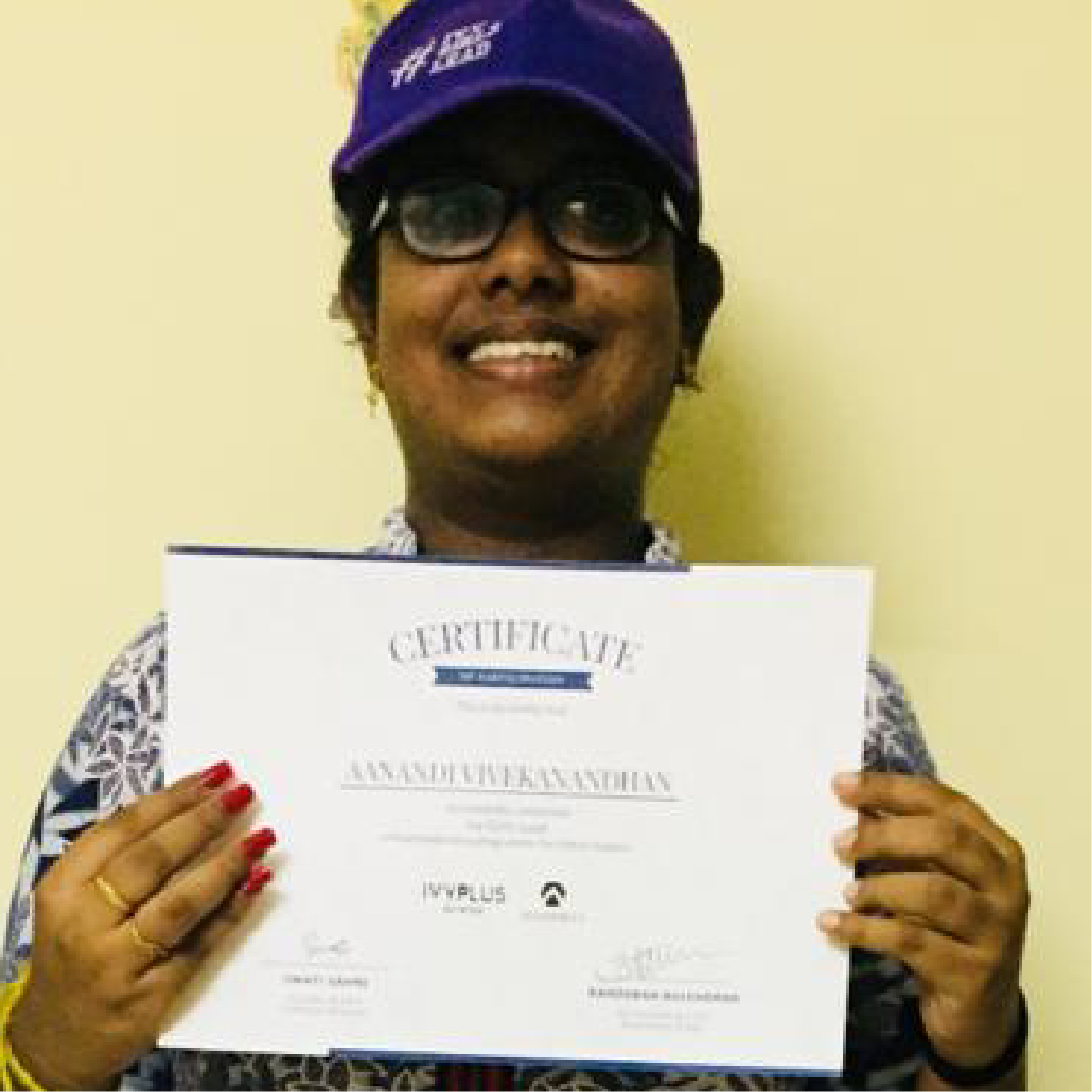 Aanandi Vivekanandhan
Hindu Ladies College, Wellawatta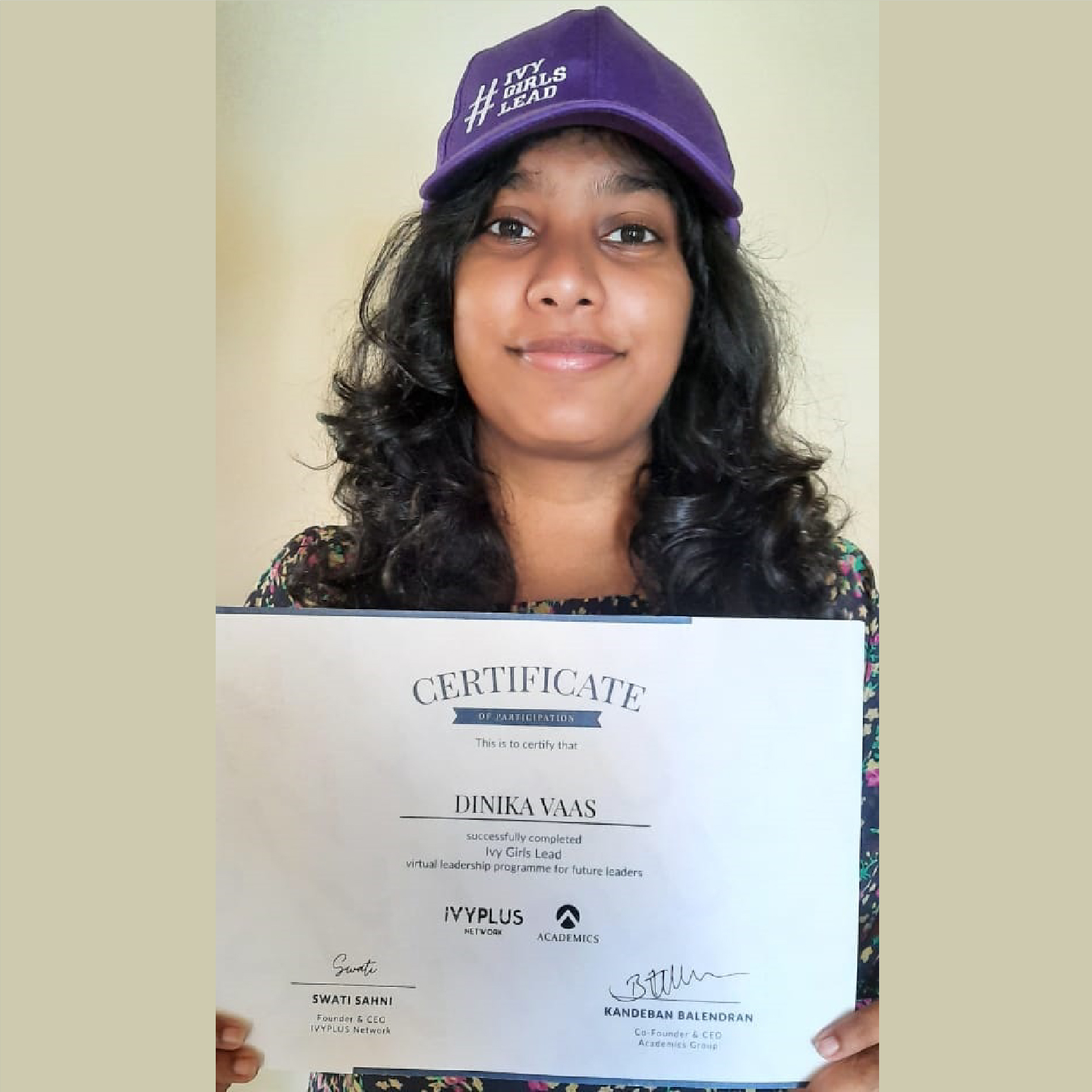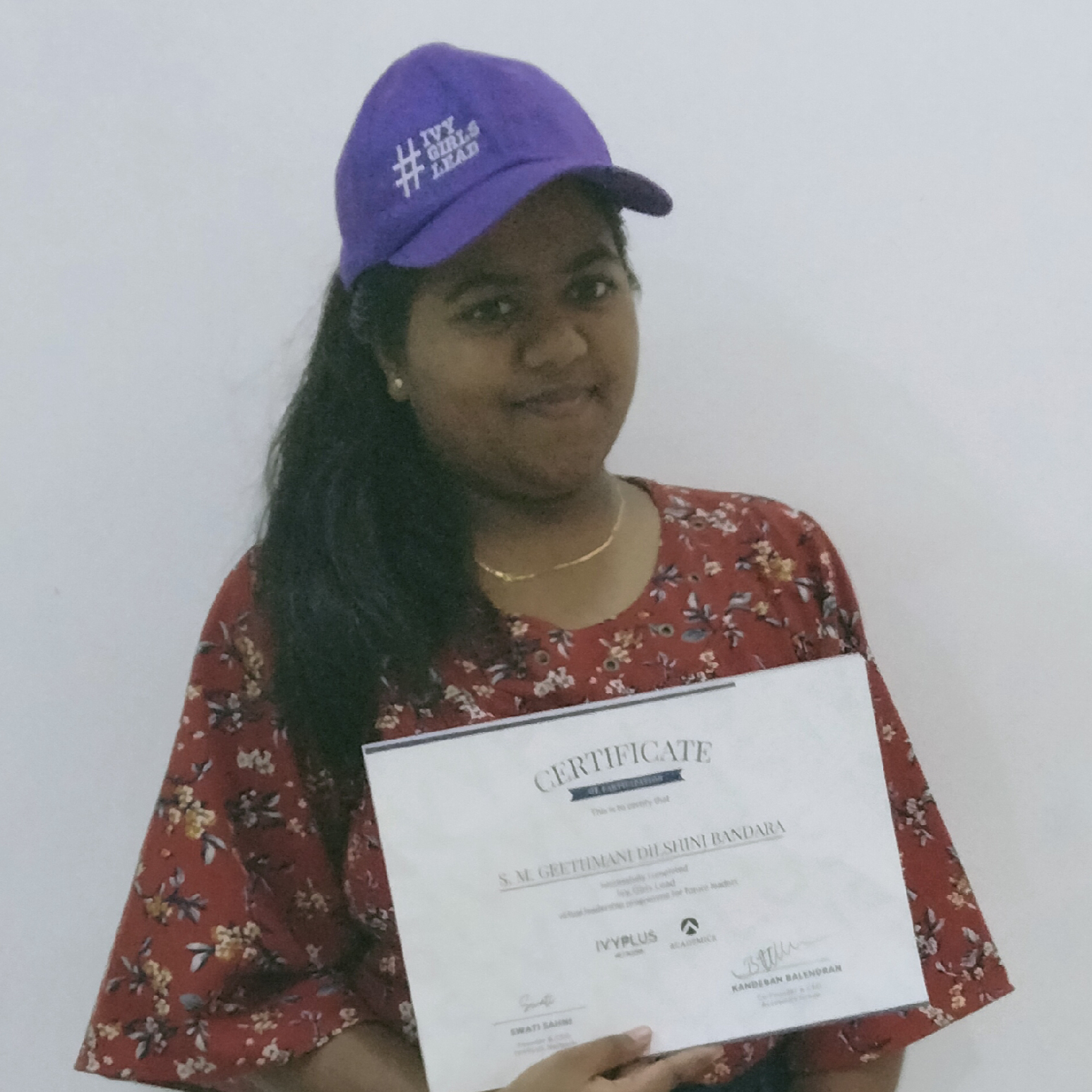 S. M. Geethmani Dilshini
Royal International School, Kurunegala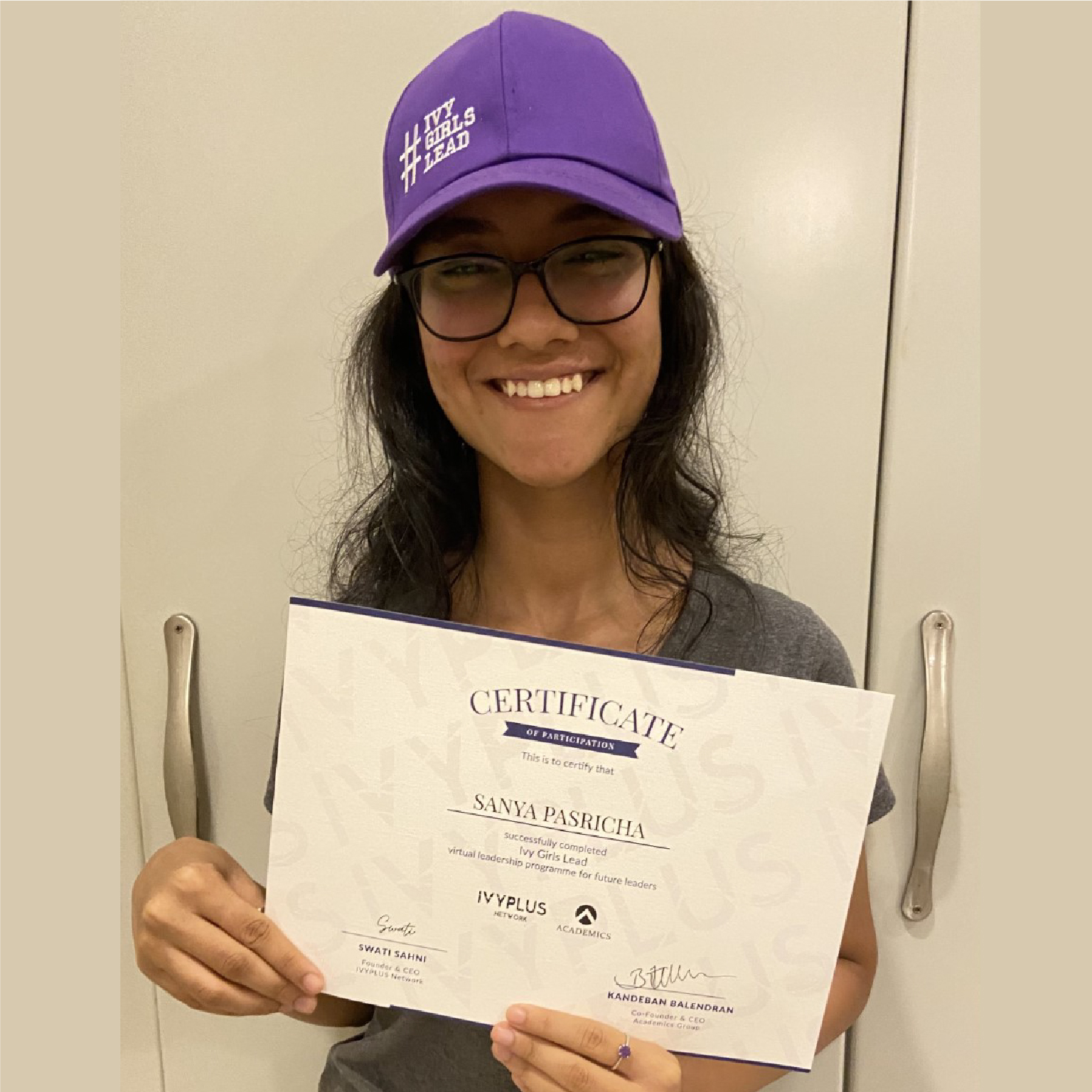 Sanya Pasricha
The Overseas School of Colombo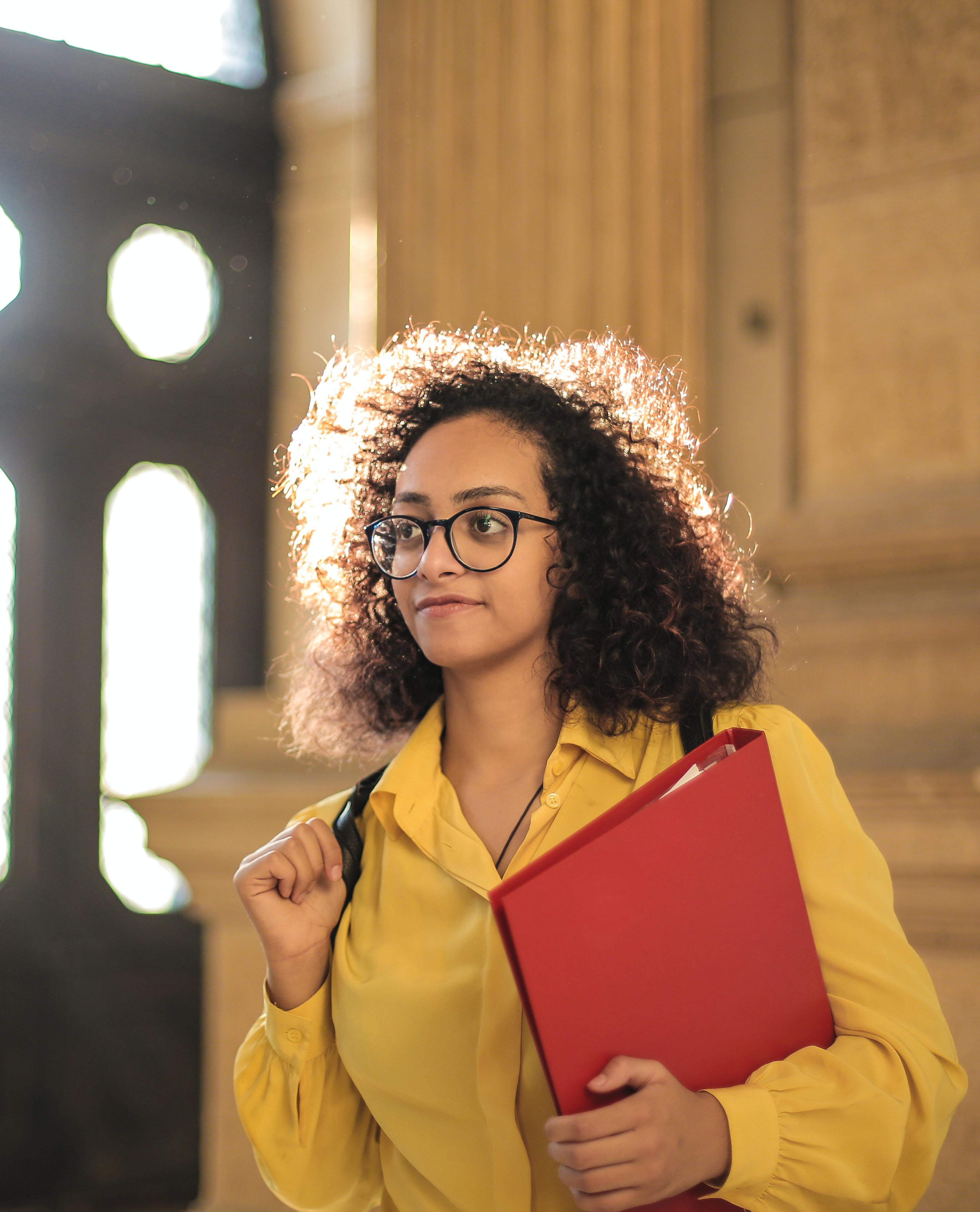 Who We are
Founded by a collective of Ivy League alumni to create a global movement through young leaders, moulded and motivated by a restless passion to make a difference worthy of our future.
Ethics. Humanity. Passion.
Our leadership programmes are designed to ignite and focus the capabilities of those in high school, university and young professionals and entrepreneurs.
Designed to increase self-efficacy, hone developments and dynamics required to succeed in
adulthood and the workplace - we focus not only on individualistic goals, but how they can be parlayed into the betterment of communities by guiding soft skills, communication, interpersonal relationships, goal setting, planning and decision-making.
We nurture global citizens with exceptionally nuanced leadership instincts and skills - and most importantly, positive attitudes driven by purpose, strategy and solution-centric perspectives.
The IVY Future Leader Programme aims to prepare individuals at a young age - at which they are fluid, curious, energetic, open to ideas and rapidly evolving into their identity - to navigate the inherent challenges of adolescence and flourish in the potentials of adulthood.
The programme guides future leaders in analysing their strengths and weaknesses, and equipping themselves
with the tools to be impactful, efficient and effective in their chosen paths. We mentor them in nurturingself-esteem, retaining it in times of crisis,building confidence, channelling maturity and strategy over impulse, and understanding
their unique brand of self-motivation and what surfaces it.
We want to create those who have the best possible chance and capabilities to be influencers of their time,
and inspirational changemakers that shape what is to come.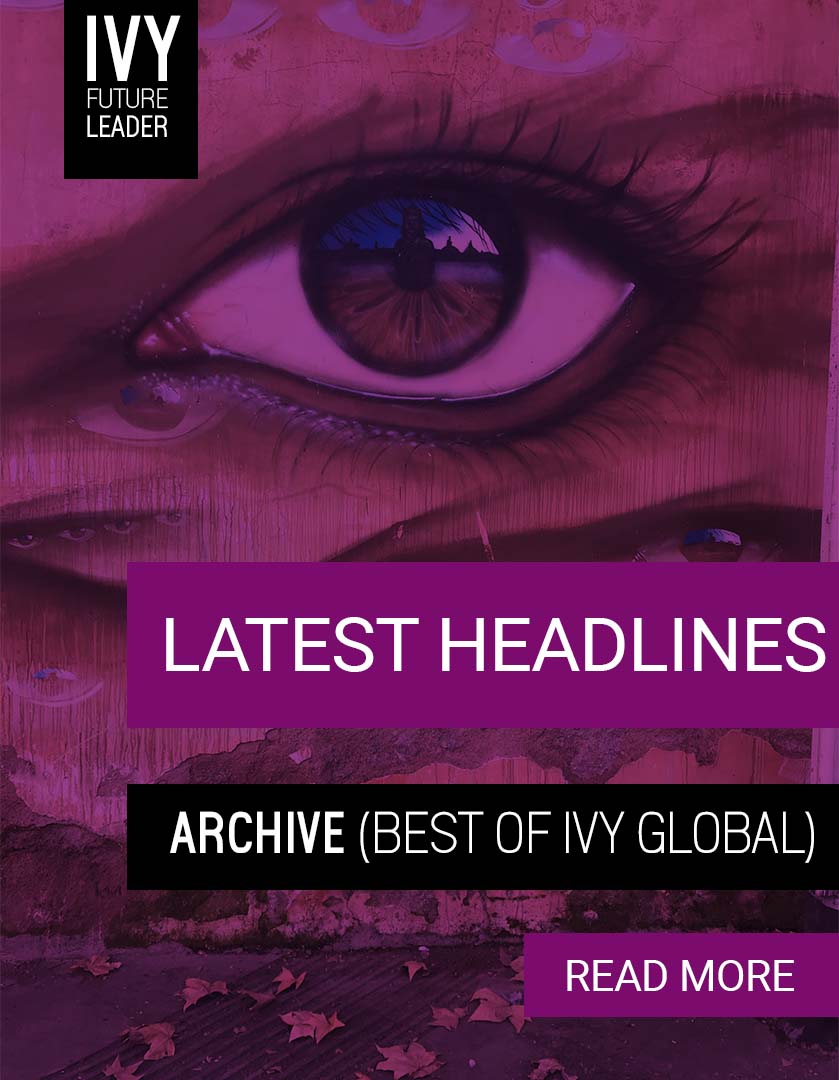 News & Stories
Stay up-to-date on all things IVY - feature stories, upcoming programmes & events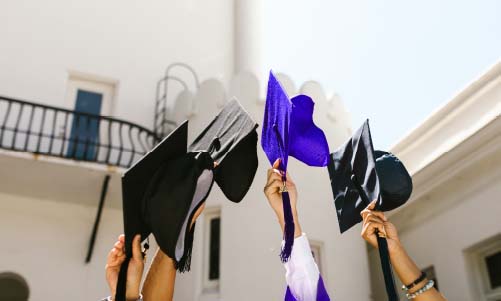 Academics Group together with IvyPlus Network transforming young women into inspiring future......
28.4.2021
read more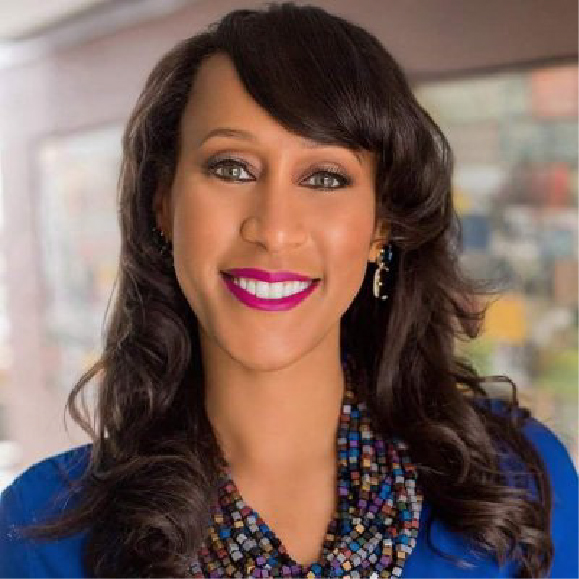 CHRISTY RUTHERFORD
Founder - Vision Finder International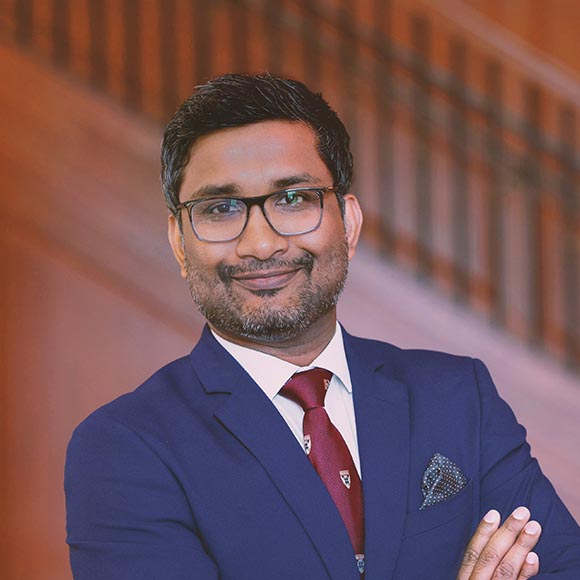 KANDEBAN BALENDRAN

Founder/CEO - Academics Group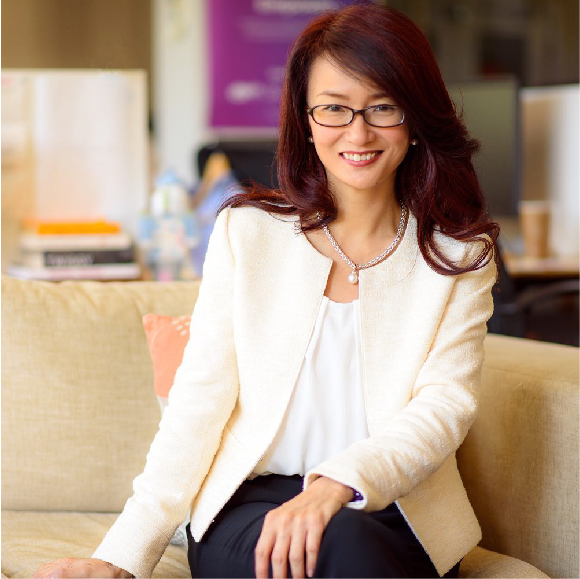 DR SANDY CHONG
Founder - Verity Consulting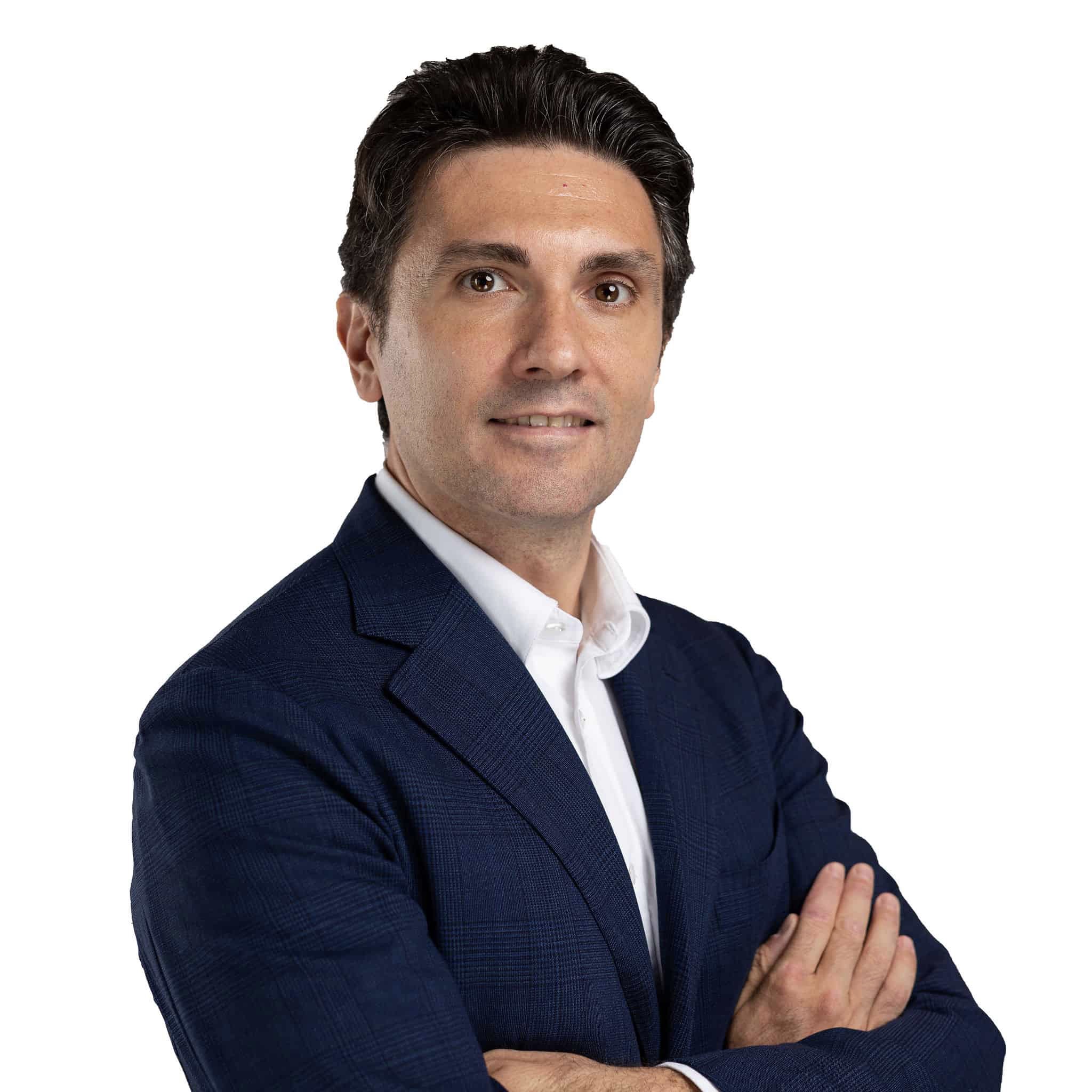 ROBERTO CROCI
MD - Microsoft for Startups MEA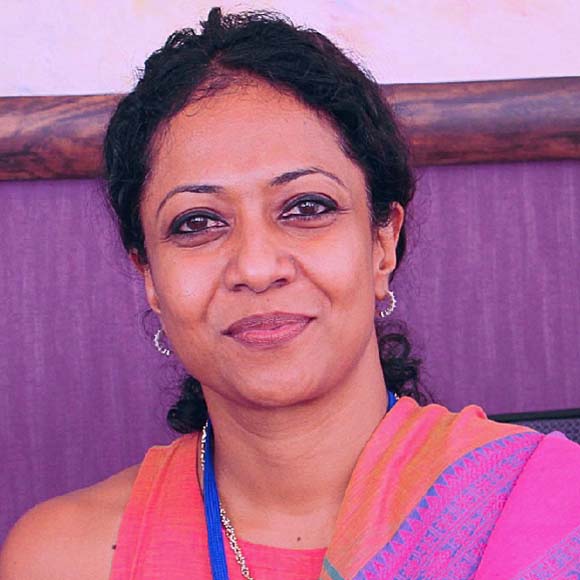 KASTURI WILSON
Group CEO - Hemas Holdings PLC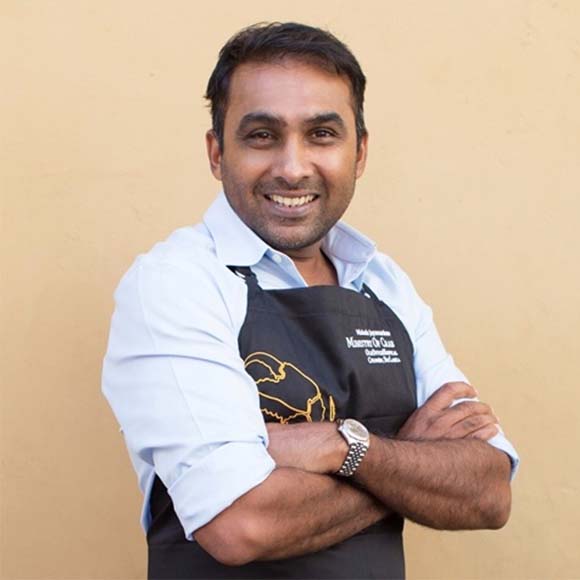 MAHELA JAYAWARDENE
Cricketer | Serial Entrepreneur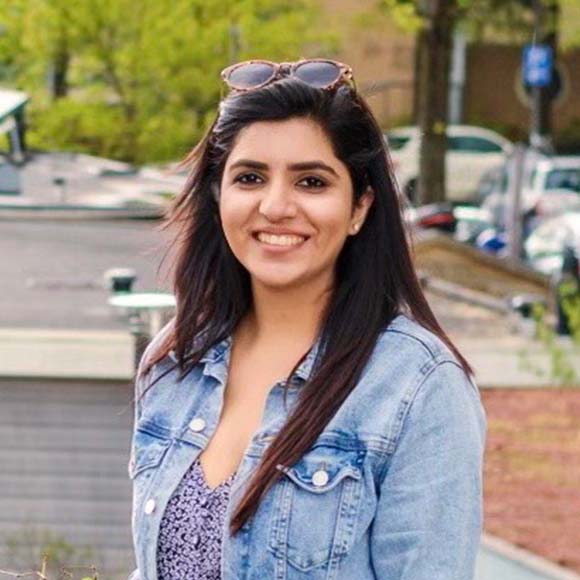 SWATI SAHNI
Founder - IvyPlus Network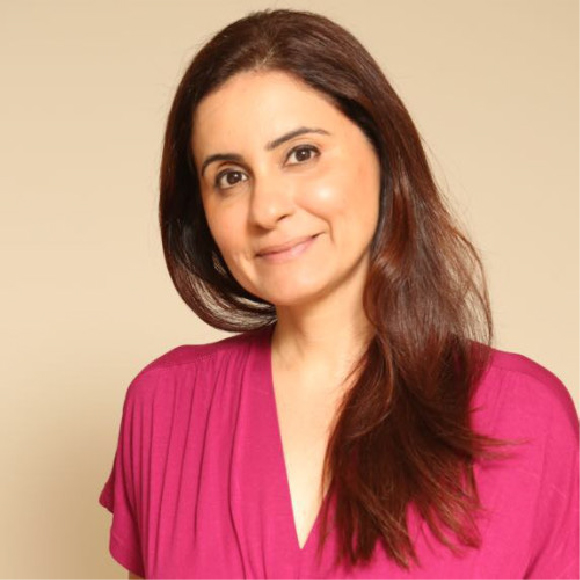 INAKSHI SOBTI
CEO - Asia Society India Centre
Inspirers
Read about those who transform through our leadership programmes.
See more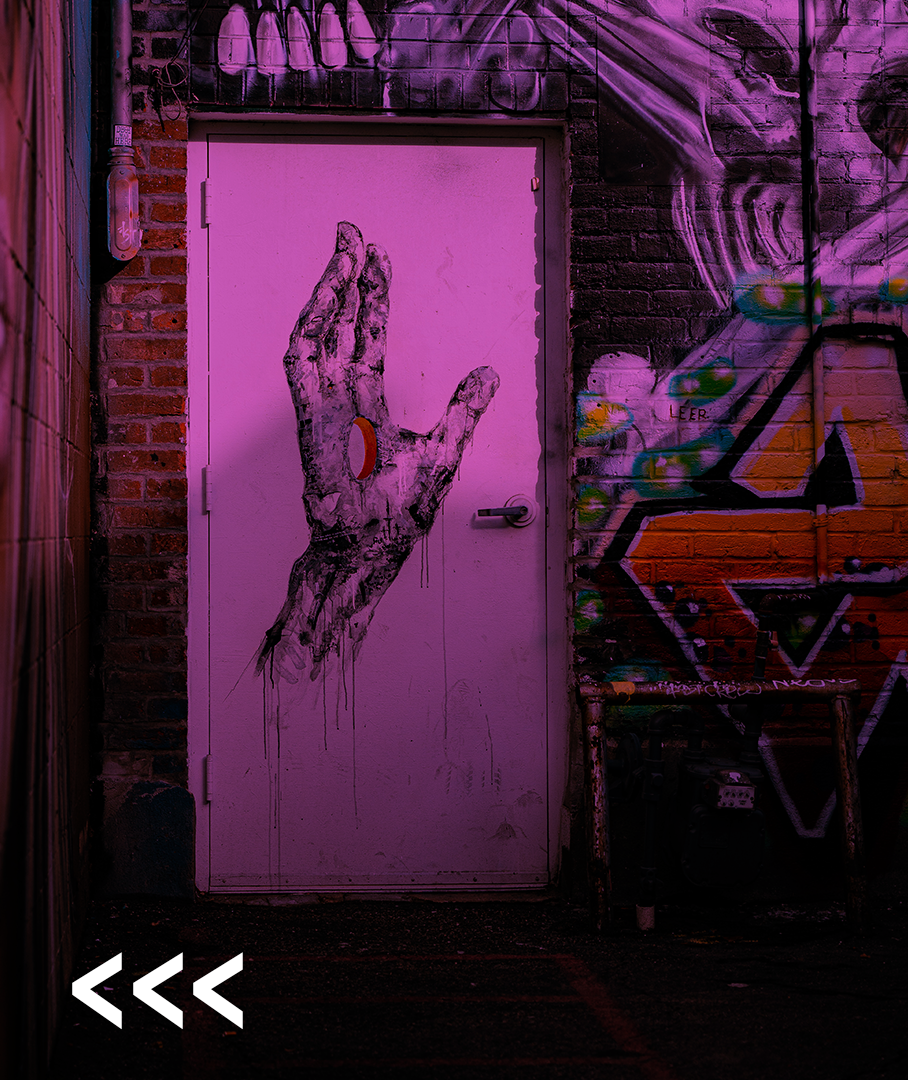 Testimonials
Hear from those who have been transformed through our leadership programmes!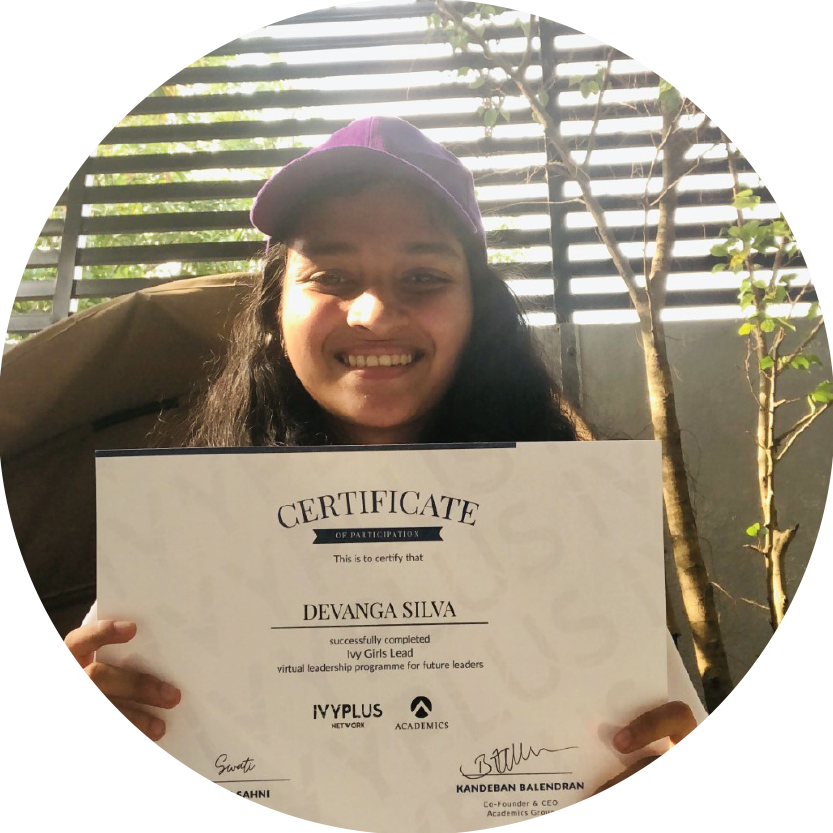 Devanga Silva
The Overseas School of Colombo
"This programme has been one of the most holistic ones I have attended thus far; I came into this experience open minded setting my expectations at a fairly average mark only for them to be exceeded in a plethora of aspects. "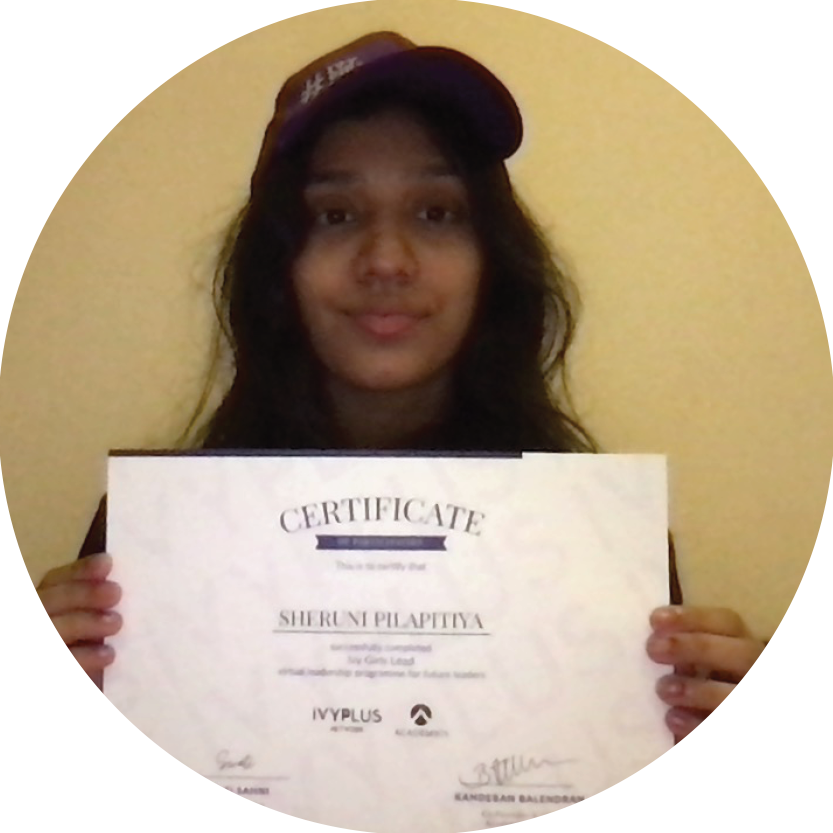 Sheruni Pilapitiya
The Overseas School of Colombo
"The Ivy Girls Lead Program was truly a unique and enriching experience, which encouraged me to reflect on my own skills, passions and purpose, as well as my role within a larger community, as a young empowered girl."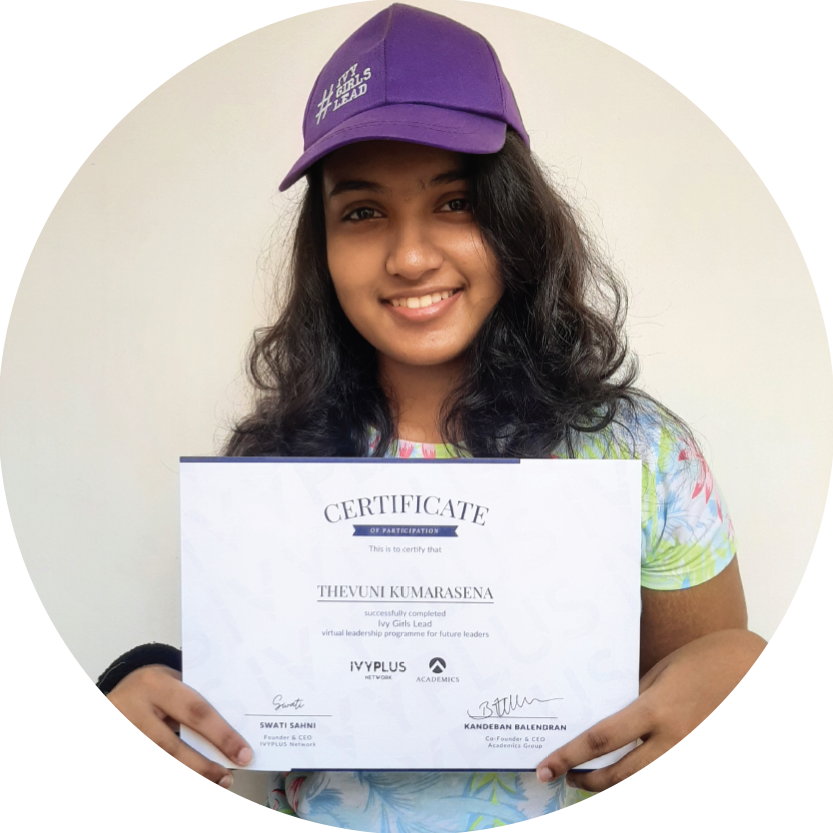 Thevuni Kumarasena
The Overseas School of Colombo
The IVY Girls lead program was extremely engaging and I think that I learned a lot through listening to all of the brilliant speakers and interacting with the other girls. I made many new friends and gained a lot of beneficial life lessons. I definitely awakened the leader in me, and look forward to the next program